http://bigbeauty.over-blog.com/
) and "Le blog de Betty"(
http://www.leblogdebetty.com/
) who go to the kids section of their favorite H&M store and buy things there. I need to say sorry to miss KiddiePurse because today I indulged in really kiddie things.
So I bought 2 headbands ( one in blue and in plastic, and the other one in a black fabric).Both have a bow and bows have always been my favorite things in the world ( I love pasta shaped like bows too.) I bought 2 sets of hair clips with bows( one made of metal with black and white polka dots and the other one in fabric with brown and white polka dots) I also bought hairclips with My Melody, Hello Kitty, My Little Pony and the female rabbit from Bambi. I also bought a seahorse necklace. And in the "adult" section I bought a black elastic belt with rosebud buckles.
I think I've come to have a cute and childlike approach to fashion and to my style. I don't care if people thinks it's not "adult" enough, I've always been playful and childlike anyway.
My 2 favorite necklaces right now: my chain with horse and heart shaped charms, and a locket where I can put pictures but haven't put them yet). Both are from H&M ( yes I'm really a girl with pattern issue...it might be an OCD)
And my new cat, Jim, could be a Weasley...or Rafe Spall's feline form
"Hella Mate! I've got so munted last night!" or " Wanna be big cop in small town, fuck off the model village".
Actually, he is named Jim in honor to my brother Jimmy who is a fraise-blonde/caramel/carot top/red head/put your euphimism here, just like Rafe Spall and Simon Pegg.
I love accessories, and lately I've been spoiled almost everytime I went to H&M and this time it was no exception. I usually tend to go in the kids section. I've seen many girls on style blogs such as big beauty (
Current Music:

Duffy--MERCY
Edgar Wright ( aka my favorite movie director after François Truffaut, Pedro Almodovar and Jane Campion) is going to be at the Just for Laughs Festival. He will do a talk with his look-alike ( Jason Reitman) and guess what? I think it is all a thing for the industry so I can't go and meet Edgar Wright. NOOOOOOOOOOOOOO. I'm like bummed out now...I mean 2 talented guys, cute to look at and some Spaced footage?!
I'm in.



1. I tag anyone who wants to do it.


2. What is your most guilty pleasure?
-watching Jon and Kate + 8 and What not to wear on TLC almost everyday.
-Nagging Kiddiepurse about her kiddiepurse when I am still pissed about the destruction of my beloved hello kitty purse 5 years ago...and having a kawaii wallet.
-Wishing that Pikachu was really existing ( Jigglypuff as well) while hating anything Pokemon.
-Loving the Bee Gees
-watching Pussycat Dolls present Girlicious ( or Sluttycious)
-staying in bed all day while watching Hot Fuzz for the 70th time
-Kindergarten scatologic joke ( I love when in Little Britain David Walliams vomits on everybody)
-Kevin Eldon in spiderman makeup

3. Have you ever seen someone die?
No.

4. Are you confused as to what lies ahead of you?
Yes I am, I have changed job zillions of times in the last year. I really hope what I'm doing now is my calling.

5. What was the last book you read for pleasure and would you recommend it?
none I read magazine for the moment.
6. Favourite sandwich and side?
Tomato bacon sandwich with tons of mayo, with regular chips or mushroom cream.

7. If a person you like doesn't feel the same way, would you continue to wait?
Honestly I think that I would still think that his mind could change about me, which is a huge no-no amongst dating specialist. If he doesn't fancy you now he probably won't in 2 years.
8. What is your dream car?
Like Icegemini I dream of a vespa and I want it white.
9. Is there anything that made you unhappy recently? There are some personal things that is occuring right now that makes me fucking unhappy, but aside that i'm happy.

10. What do you want most in life?
Happiness, make-up brush, a white vespa and world peace.

11. Which of the 7 Deadly Sins do you think you relate to the most and why?
Greed, pride and sometimes anger.
12. Where do you see yourself in 10 years?
A spinster in the vein of Judi Dench in Cranford but only 40 years younger.
13. Who is currently the most important person to you?
ME!

14. What kind of person do you think you are?
An adorkable neurotic gal.
15. What made you laugh recently?
Sam Golzari in 21 but only because I remember him in American Dreamz and couldn't stop saying to myself:"You have been Omarized"

16. Which fictional character could you most see yourself marrying? A lot:

literary: Billy Porter from He Kills Coppers ( I have a thing for guys who hide himself through a bunch of new age loonies and kills coppers...okay I have a thing for the actor who played him.), Edward Farrars from Sense and Sensibility, Heathcliff from Wuthering Heights ( and Rochester but the Wide Sargasso Sea version ( the one with Lethal Fickle)
movie: Andy Cartwright from Hot Fuzz, Jude from Accross the Universe, Noel from Shaun of the Dead, Pete from SOTD, Charlie from Kinky Boots, Frederic from Bon Voyage, Norrington from POTC Billy Mack from Love Actually.
TV: The Tenth Doctor and Tom Quinn from Spooks and Sam Tyler from Life on Mars.
Animation: Chicken Little.

17. Would you give your all in a relationship?
I don't know. Actually I've been in one relationship and I don't know.

18. Do you have a motto?
When the going gets tough the tough goes shopping.

19. What type of friends do you like?
All of them
20. Do you have a favorite song?
-Jimmy by M.I.A.
-With every heartbeat by Robyn
-Melt my heart to stone by Adele
-Campus by Vampire Weekend
-Electric Bird by Sia
-In my arms by Kylie
-Dancing Queen by Abba
-see you again by Miley Cyrus.
Meme time ( stolen from the boobtastically spectacular Icegimini)
Go to http://quotationspage.com/random.php3 and browse the random quotes until you find five that you think reflect who you are or what you believe.
To be great is to be misunderstood
Oh and I just cut my hair really short, it is like a pixie cut and I love it!
Stolen from dj_intheuk and the lovely miss with red hair


1-Matthew Macfadyen
Why him? Well Matthew Macfadyen has this coolness that the doctor needs at the same time he has this way to make to girls go gaga.
Why not? Matthew is an amazing actor, however he is more a straight-man that a comic actor or at least needs to acquire it.
Potential Companion: funny kindergarten teacher who is in need of adventure played by: Olivia Colman.


2.Martin Freeman
Why him? He knows sci-fi because he was Arthur in Hitchiker's guide to the galaxy, he has this quirky face and has a way with word. He would be a retro-ish doctor.
Why not? Martin might not want to be tagged or typecast, however Peggster said the same thing but then signed on to be Scotty for 3 Star Trek films.
Potential Companion: A modern Londoner, an art student a little hipster-ish played by: Fickle. Also, there is always a slashy vibe needed.
Potential quote: Companion: Can I use the sonic screwdriver?
Doctor: NYUUUUUUUUU!

3. Peter Serafinowicz
Why him: he is a geek at heart, who can do pretty much everything. With those big bulgy eyes, this statuesque frame and that voice Peter is made of win.
Why not: I am afraid that Pete will go into mimicking other doctor. However if something happen like I don't know the doctor has met John Lennon and the doctor goes into an imitation of Lennon, Peter Serafinowicz would be spot on.
Potential Companion: Clumsy slob who does nothing of his life played by Nick Frost ( I'm typecasting but I really love the dynamic between Pete and Ed in Shaun of the Dead.)
Potential quote: The door of the Tardis is open again!

4.Julian Rhind-Tutt
Why him: he has an intello vibe, he is a fraise blonde and he can do both drama and comedy.
why not: I don't think it's time for a fraise doctor yet, it is the doctor constant struggle and the figma of his identity quest.
Potential Companion: Quirky librairian who always carries books played by: Michelle Ryan ( she really needs to do soemthing great after that Bionic woman debacle) or Emma Pierson

5. Jack Davenport
Why him: He is this cool, but not so cool lad who can play with emotions with ease. And if Stephen Moffatt becomes the head writer it is easy to put Jack Davenport, who starred in Moffat's Coupling in top contender.
Why not: I don't see a reason why. However, he will need to bring it.
Potential companion: a girl from the Edwardian era played by Charity Wakefield ( Sense and Sensibility)
So I decided to do a list of potential candidates for the eleventh doctor ( and potential companion for them)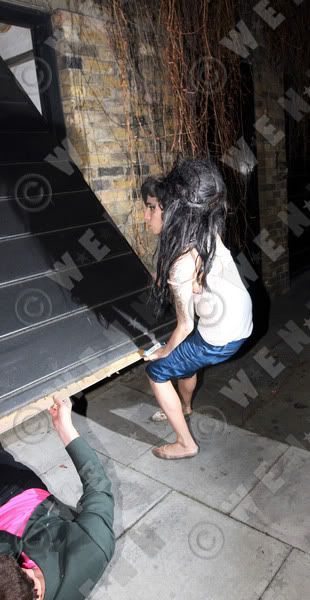 Photo of the day: Wino pulling some strenght but not where she should ( she has the strenght to hold the door but not of quitting drugs nor Blaaaaaaake inc.)
May I present you Mel Raido?!
He is my new crush and I just don't know why. Maybe it's the exotic charm (half Greek-Half Spanish) or the fact that he do something else of his time besides acting that makes me love him...
Anyway he costarred with Rafe Spall in "He kills Coppers" in which he was the baddie. He also played in a Channel 5 show called "Urban Gothic" in which he was a wolf-man and was mostly silent...and mostly nekkid. With his brother, he owns an hotel in Camberwell, South London and plans to open a tapas bar close to the hotel. Sorry for the picture he has not reach fickle-ish stardom yet...
And to the girl who is going to Lundon tomorrow to encourage Fickle: have a nice trip and enjoy yourself ( and go to Camberwell ;) )
I don't understand why people say that they have weird crushes. For me crushes are always weird. I mean, in Quebec, not a lot of girls have crush on Rafe Spall or Simon Amstell or Martin Freeman. My newest crush, is really not that well known, someone even ask "WHO?!" on the IMDB board about his next project.
Current Music:

Bjork-it's oh so quiet

Rhea, you fashionista, I have a question for you ( of course everybody can answer):

Which is worst: Dressing safely and bringing a kiddie purse ( shown by our favorite ficklish girlfriend: KiddiePurse)?

Or dressing like a kid playing grown-up when you are a grownup?
Love the lenght, love the shift, hate the sleeves and the headband ( again she should have use a splash of colour) oh and hate the matchy-matchy vibe coming from Maureen and Simon...even the Beckams has stoped doing it.



My faves:


Tamzin Outhwaite is just beautiful and loved the dress.

And:


I must repeat again: Major Girlcrush on Keeley Hawes; she is just gorgeous. Loved her on Spooks ( her, Macfadyen and David Oyelewo(sp?) were the team)



Take me Dan Stevens! Gosh, he beats any fickle yetis there are on this earth ( but Dan gets beaten by Mel Raido...that's life)


Current Music:

The Hoosiers-Cops and Robbers